Kitchen & Bath Remodeling Services
We manage, design and coordinate your project every step of the way. We offer complete kitchen and bath remodeling services. If you're looking for a contemporary, industrial, modern or mid-century design, every project starts with taking your ideas and creating a 3-D model so you'll have a clear vision of the transformation.When you let us remodel your dream kitchen you will be in good hands as we do not subcontract any of our work. All of contractors are in house. We are licensed by the CSLB, insured and bonded for every construction trade that we perform in your house. We have been operating like this since 1998, when Martin Nazarian started this business.
Timeline
The process / sequence of events to achieve a perfect kitchen & bath remodel:
Planning your space / selecting materials / Finalizing custom 3D designs
Prep work / Dust control (This takes about ½ to 1 day to complete)
Demolition & haul away of your existing kitchen (1-2 days)
Complete rough electrical/ lighting &/or plumbing work (2-7 days)
Patch drywall or replace it entirely (1-3 days)
Paint (1-3 days)
Install flooring (1-3 days)
Install kitchen / bath cabinets (1-3 days)
Fabricate & install counter tops (1-2 days)
Install tile back splash (1-2 day)
Complete final electrical/lighting, appliances, sink & faucet reconnection (1-2 days)
Touch up paint (½ day)
Thorough clean up (½ day)
Enjoy your dream kitchen
You must factor in permissible delays such as bad weather, possible extra work surprises that are not anticipated such as issues you cannot see – for example; a bad pipe inside the wall, mold on the drywall, which is covered by the existing cabinets, things like this will add extra time & money to your project. Sometimes you must add a day between each step, as each step is speciality trade, therefore a new install/worker comes in to perform his task. Switching crews takes a little bit of downtime. For this reason we must say minium 14-16 days for a realistic project turn around time of this scale. Most of our crews work on Sundays incase you are wondering. If you are using the above timeline mainly for a bath remodel, please add an extra day to install shower door, and an extra 1-2 days for water proofing your shower walls and floors.
Total 14 – 32 days estimated time of completion – from A-Z.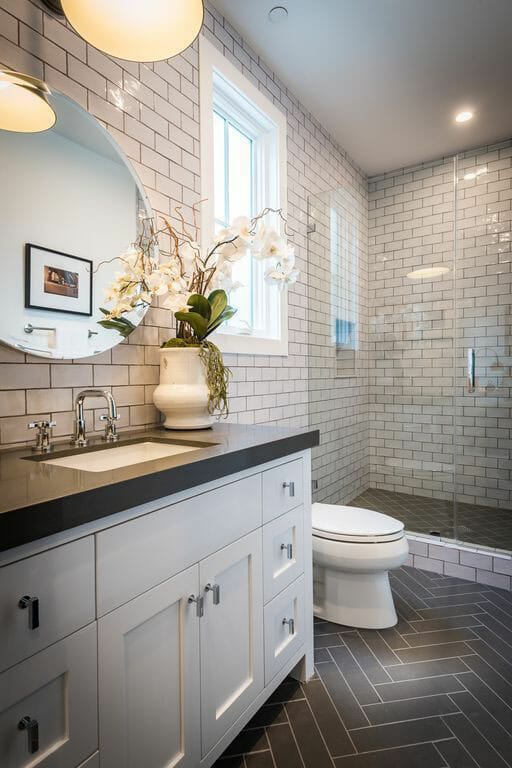 Curbless showers
Curbless showers are not only trending because they are safe & stylish – but are also required for ADA access. It is not that expensive to complete a zero-threshold walk in showe. If you are converting a tub to shower or simply remodeling your existing stand up shower, you might want to consider a curbless shower. No need to worry the shower pan is sloped properly to prevent water from building up.
Knowing how to remodel your kitchen & bath can be overwhelming, especially for the first-time remodeler – you will have many questions, concerns and comments. We are here to help you feel at ease and worry-free during your remodel.- hire us and you can just sit back and watch your dream kitchen and bath becoming a reality.
A curbless tile shower does not have a curb or shower dam. You can walk straight in. This design is not only visually pleasing, but it also has a few key benefits. The obvious benefits are easy entry and eliminating a tripping hazard. There is a lot more to a curbless shower,
please read our blog on curbless showers
Give some thought to your counter top edges and make sure to see samples because this little detail makes a huge impact!
Need to know the difference between prefab granite & custom granite?
Prefabricated granite slabs
Simply means that the granite is fabricated before it reaches the end user (homeowner). Prefab granite is very affordable, because most of the fabrication is completed beforehand at our factory, thus saving costs on human produced labor. In addition to saving costs on the "labor side of things", you are buying "just enough" material for your project, therefore saving money on the "material side of things" as well. There is nothing negative about prefab granite! Potential customers sometimes read online or hear from custom fabricators that the glue that bonds the laminated bull nose to the counter top surface is not of the best quality. After 1,000's of projects completed, we've never heard of a complaint where a bull nose just falls off! Overall if you arelooking for a quick upgrade and on a tight (or have money to spend) budget, prefab granite, prefab marble & prefab quartz is the way to go!
Custom granite slabs
(which is the original way of installing granite counter tops) require more fabrication labor & almost always you are buying more material then you need. Going prefab eliminates both of those elements, which basically means more money in your wallet!
This process is still very effective if you are looking for an exotic stone, and if you would like a custom edge. Custom granite 3cm thickness is extremely popular on the East Coast, on the West Coast 2cm thickness is more popular. 3cm is thicker which allows for a more custom edge & with 3cm, you do not need a plywood sub top..
Top 3 reasons
why some homeowners decide to go with a custom slab instead of a prefabricated slab:
1) The style of the edge – there are only a three different edges that are manufactured in a prefabricated counter top; round, square, square mitered (quartz only) & single step ogee.
2) If you are concerned about multiple joints / seams for a particular unique shaped island cabinet or even a perimeter cabinet, then a custom slab may reduce the seams.
3) There are thousands of custom slab colors to choose from. Prefabricated granite counter tops have about 300-400 colors to choose from. To better understand what the term prefab means, google it!
Radon
Recent articles have come out about the prevalence of radon in granite. According to the Marble Institute of America, this concern has been very overblown. "Calculations show that, for an average counter top containing an average uranium concentration of 4 ppm, the concentration of radon that is given off by the counter top into household air is 0.00000074 pCi/L, an amount that is 270,000 times less than the level of radon in outside air! The granite counter top typically emits a radiation level of 5-10 R/hr. So the maximum contact radiation level that you would receive over one year if you were to sit on counter top all the time would be about one quarter of the annual radiation dose from all sources. If you were just a few inches away from the granite (e.g. when doing the dishes), then the dose would be too low to measure.
Natural Variation in Granite & Natural Stone Products
Always remember – Granite is a natural product with natural variations. These variations are inherent from piece to piece. No two pieces are identical, similar yes, identical no. If you are looking for consistency or a fixed simple pattern in regards to counter tops, then please visit our quartz page.
We can assist you with all of these services. It is extremely convenient, time & money saving to let one company / contractor coordinate all of these services for you.

Contact us for a free estimate and consultation for your kitchen and bath remodeling projects