Porcelain Countertops are the future of counter tops. The whole industry is very excited about porcelain counter tops, it's been a long time coming. First it was natural stone such as granite, limestone, soap stone and marble, then quartz came and dominated the market the last 10-15 years – the next 10-20 years porcelain will reign king of the counter top world. Visit our Pasadena, Rosemead or Diamond Bar showroom in Los Angeles to view our porcelain, granite counter tops quartz and marble slabs and also pre fab slabs.
The top reasons why porcelain counter tops will dominate the market are simple & extremely exciting:
The software, technology and machinery used to create porcelain will give it an almost natural marble look, to the untrained eye, you won't be able to tell apart real marble from porcelain – look marble.
The cost is much more affordable than real marble + porcelain is also available in pre fab slabs which make it even more affordable.
Last but not least: Porcelain is much more porous resistant, heat resistant and stain resistant then marble, granite, quartzite and quartz.
Available in three beautiful white marble looks, in polished or matte. Porcelain counters are a great way to showcase the beauty of marble without the maintenance of natural stone. No other man made product comes as close to the beauty of real marble as porcelain
New arrival porcelain countertops from Italy
slab size is 127..5"x63 3/4
12mm thickness
5 colors to choose from
In stock
Polished/Silk finish
Prefab Porcelain Counter Top
SIZE 120″x26″ with a 6″ backsplash
PRICE: $549.00 per slab for material only

The look of natural stone, without the weight
Weighs only 2.8 pounds per sq. ft. vs. 19 pounds per sq. ft. for granite slabs
Available in 13 colors
Suitable for flooring, tabletops, shower surrounds, accent walls and countertops
Easy to clean, and minimum grout lines
Mitered Edge on 3 sides
6′ Backsplash 6″X118″
Finish: Polished and Matte
Edge: Mitered
Origin: Indonesia
Slab Porcelain Counter Top
Slabs come in 118"x59" in 6MM thickness and 126"x63" in 6 & 12MM thickness
Mimics natural stone
Available in thirteen colors
No routine maintenance required
Fraction of the cost of natural stone
Arabascato Polished book matched porcelain slabs from our Stile Collection feature a soft creamy white background and distinctive gray veins. The book matched, or mirrored pattern, makes these 59×118 slabs in polished finish are ideal for creating stunning accent walls and showers. The seamless nature and reflective pattern allow for a truly dramatic installation, including countertops and flooring.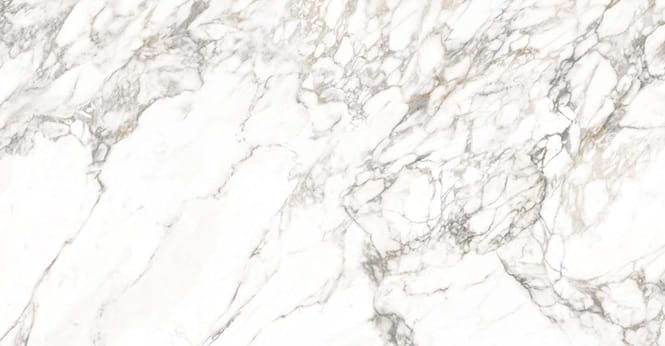 Create show-stopping installations with our Arabascato Viso Book matched porcelain slabs from our Stile Collection. The soft creamy white background and distinctive gray veins have the look of fine natural marble and the 63×126 dimensions allow for sweeping installations on floors, walls and fireplaces where the mirrored pattern can be appreciated. These beautiful porcelain slabs are suitable too for use on countertops and floors, and are the perfect choice for creating a stunning waterfall island in the kitchen.