Granite Slabs & Counter Tops
Granite Slabs and Counter Tops
Choice Granite Inc. is your ultimate choice when shopping for
granite, marble & quartz counter tops in Los Angeles & Orange County! Prefab & Slabs available at extremely affordable prices!
Over 300 prefabricated granite & quartz counter top options. We take tremendous pride in our low prices & our highly rated customer service! We have over 155 positive yelp reviews! The best thing about our company is you will get treated like family, as all three of our locations are family owned and operated.
You will always get a quick turn around time & professional design advice when it comes to fabrication and installation of your new counter tops!
We Specialize in Fabrication and Installation
Choosing Granite Countertops for Your Kitchen and Bathroom:
A Comprehensive Guide for First-Time Homebuyers
Welcome to the world of granite countertops! As a first-time homebuyer, one of the most exciting aspects of creating your dream kitchen and bathroom is selecting the perfect countertop material. Granite countertops offer a timeless beauty and durability that can enhance the overall appeal and value of your home. In this article, we will delve into the world of granite countertops, exploring their benefits, maintenance tips, and why Choice Granite Inc., with its five showrooms in Los Angeles, should be your ultimate destination for all your countertop needs.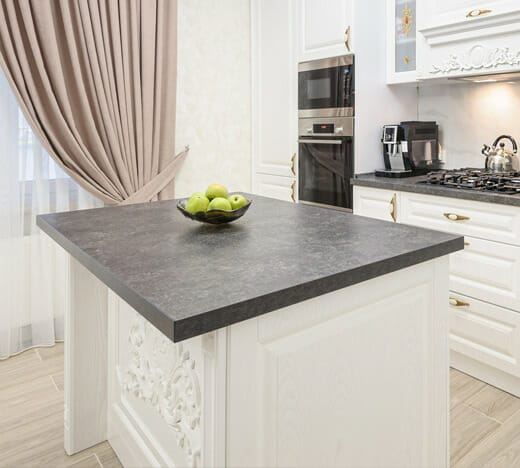 1. What Makes Granite Countertops Special?
Granite is a natural stone renowned for its elegance and strength. It is formed deep within the earth's crust over millions of years, resulting in a unique blend of colors and patterns that make each granite slab distinct. Here are some reasons why granite is a preferred choice for kitchens and bathrooms: 
Durability: Granite is incredibly durable and resistant to scratches, heat, and stains. It can withstand the rigors of daily use and maintain its beauty for years to come.
Aesthetics: With a wide range of colors and patterns, granite countertops can complement any kitchen or bathroom design. From classic and subtle to bold and dramatic, there is a granite option to suit every style preference.
Value Addition: Granite countertops are highly sought after by homebuyers due to their timeless appeal. Installing granite can increase the value of your home, making it a wise long-term investment.
2. Exploring the Benefits of Granite Countertops:
When considering granite countertops for your kitchen or bathroom, it's essential to understand the numerous benefits they offer: 
Natural Beauty: Each granite slab is a unique piece of art, showcasing the wonders of nature. The interplay of colors and patterns adds depth and character to any space.
Resilience: Granite's durability ensures that your countertops can handle the demands of everyday life without losing their luster.
Heat Resistance: Granite is heat resistant, making it an ideal surface for placing hot pots and pans directly on the countertop without worrying about damage.
Low Maintenance: With proper sealing and regular cleaning, granite countertops are easy to maintain and keep looking their best.
Hygienic: Granite is a non-porous material when properly sealed, minimizing the risk of bacteria growth and making it a safe and hygienic choice for kitchens and bathrooms.
Longevity: Granite countertops can last a lifetime when cared for properly, providing you with years of functional and aesthetic value.
3. Choice Granite Inc.: Your Trusted Partner in Granite Countertops
When it comes to selecting the perfect granite countertops, Choice Granite Inc. is your go-to expert. With five showrooms conveniently located in Los Angeles, our dedicated team of professionals is ready to assist you throughout the entire selection and installation process. Here's why you should choose us: 
Extensive Selection: Our showrooms offer an extensive range of granite slabs, ensuring you find the perfect match for your kitchen or bathroom design.
Expert Guidance: Our experienced staff members are knowledgeable about the different granite varieties, helping you make an informed decision that aligns with your style preferences and budget.
Customization Options: At Choice Granite Inc., we understand that each home is unique. We provide customization options to ensure your countertops fit seamlessly into your space.
Professional Installation: Our skilled installation team ensures that your granite countertops are installed flawlessly, guaranteeing a stunning end result.
Competitive Pricing: We offer competitive pricing without compromising on quality, making granite countertops an affordable choice for your home.
Conclusion:
Granite countertops are a beautiful and durable option for enhancing your kitchen and bathroom. With their timeless appeal and ability to add value to your home.
How much will my Granite Slabs & Counter Top cost?

Send us measurements & pictures via email, text or walk in - or we offer free in home measurements.

Tell us what granite slabs & counter tops color you're interested in.
You will then receive an itemized quote that is 98%-100% accurate!
Rest assured, we will go over the fine details & revisions of your custom design together at a later stage in your home – However, your price quote will not change!
Popular prefab Granite Gallery
Granite Counter Top Choices
Granite Counter Top Knowledge
Granite counter top sizes:
Prefab counter tops slabs come in 4 sizes
9''x26'' – 9'x36'' – 9'x42'' -9'x52''
Custom slabs are random, typically ranging from 40-75 s.f. Per slab which is around 90''-175'' x 40''-80''
2cm and 3cm thickness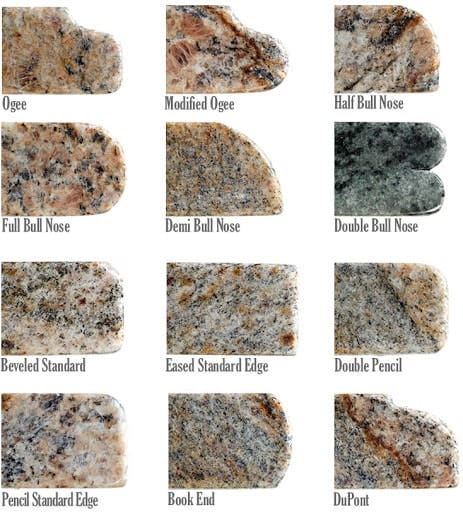 Edge profiles for granite slabs
Round bull nose
Ogee edge
Bevel
Mitered square + many more
Origin of granite
The dominate countries that produce granite quarries
Are Brazil, India & Europe.
Finishes of granite counter tops slabs are,
Polished, honed, leather and flamed
The composition of this granite is mostly feldspar and quartz, making it a very hard and durable product, which is ideal for kitchen countertops. In some slabs, there may be veins that have tones of rust in them, as well as spots of turquoise quartz. This granite must be back-meshed before the slabs are moved to the resin line at the factory. In doing this, it is not always possible to bookmatch the slabs. Therefore, the slabs may or may not be book-matched, depending on the block. During the polishing process, an epoxy resin is applied to the surface of the stone to fill in any natural pits, cracks or fissures that may exist. This does not affect the durability, maintenance or beauty of the stone. It is possible for some of the more minute pits that are too small to effectively hold the resin, to reopen during other finishing stages. However, this will not detract from the overall quality or appearance of the stone. Finally, a mesh backing is adhered to the back of the stone to ensure safety while handling and fabricating the slab or tile. As a natural stone product, it is recommended that it be sealed to extend its longevity.
Recommended uses:
Commercial
Residential
Interior Floor
Countertops
Interior Wall
Fireplaces
Showers
BBQ outside counter tops
There are 3 levels of variation when it comes to granite slabs:
Consistent – Moderate – Extreme
We do require you approve the granite slab before we begin fabrication to ensure quality control and customer satisfaction.
FAQ About Granite Slabs & Counter Top
What is the average cost for granite countertops?
Approximately $35 to $100 per square foot
The cost of a granite countertop will, of course, depend on the size of your surface area. However, the average granite countertop will cost approximately $50 to $100 per square foot. In addition to the size, the cost will also depend on how thick you want the slab to be. Prefab granite slabs are always much more affordable because it is premade.
Which is more expensive granite or quartz?
Granite Is Cheaper Than Quartz
This is probably the first thing most people consider when choosing their countertop. The final cost of countertops will depend on several factors, but generally, granite countertops cost $40-50 per square foot including installation. Quartz ranges from $50-75 per square foot installed
Please contact us for a quote on your granite slabs and counter tops for your kitchen and bathrooms!