Granite Slabs & Counter Tops
Granite Slabs and Counter Tops
Choice Granite Inc. is your ultimate choice when shopping for
granite, marble & quartz counter tops in Los Angeles & Orange County! Prefab & Slabs available at extremely affordable prices!
Over 300 prefabricated granite & quartz counter top options. We take tremendous pride in our low prices & our highly rated customer service! We have over 155 positive yelp reviews! The best thing about our company is you will get treated like family, as all three of our locations are family owned and operated.
You will always get a quick turn around time & professional design advice when it comes to fabrication and installation of your new counter tops!
We Specialize in Fabrication and Installation
How much will my Granite Slabs & Counter Top cost?
Send us measurements & pictures via email, text or walk in - or we offer free in home measurements.
Tell us what granite slabs & counter tops color you're interested in.
You will then receive an itemized quote that is 98%-100% accurate!
Rest assured, we will go over the fine details & revisions of your custom design together at a later stage in your home – However, your price quote will not change!
Popular prefab Granite Gallery
Granite Counter Top Choices
Granite Counter Top Knowledge
Granite counter top sizes:
Prefab counter tops slabs come in 4 sizes
9''x26'' – 9'x36'' – 9'x42'' -9'x52''
Custom slabs are random, typically ranging from 40-75 s.f. Per slab which is around 90''-175'' x 40''-80''
2cm and 3cm thickness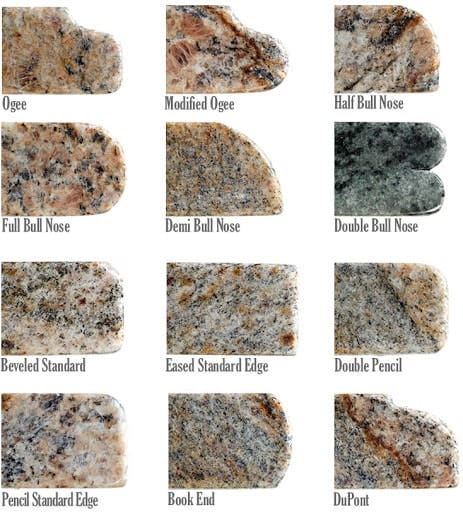 Edge profiles for granite slabs
Round bull nose
Ogee edge
Bevel
Mitered square + many more
Origin of granite
The dominate countries that produce granite quarries
Are Brazil, India & Europe.
Finishes of granite counter tops slabs are,
Polished, honed, leather and flamed
The composition of this granite is mostly feldspar and quartz, making it a very hard and durable product, which is ideal for kitchen countertops. In some slabs, there may be veins that have tones of rust in them, as well as spots of turquoise quartz. This granite must be back-meshed before the slabs are moved to the resin line at the factory. In doing this, it is not always possible to bookmatch the slabs. Therefore, the slabs may or may not be book-matched, depending on the block. During the polishing process, an epoxy resin is applied to the surface of the stone to fill in any natural pits, cracks or fissures that may exist. This does not affect the durability, maintenance or beauty of the stone. It is possible for some of the more minute pits that are too small to effectively hold the resin, to reopen during other finishing stages. However, this will not detract from the overall quality or appearance of the stone. Finally, a mesh backing is adhered to the back of the stone to ensure safety while handling and fabricating the slab or tile. As a natural stone product, it is recommended that it be sealed to extend its longevity.
Recommended uses:
Commercial
Residential
Interior Floor
Countertops
Interior Wall
Fireplaces
Showers
BBQ outside counter tops
There are 3 levels of variation when it comes to granite slabs:
Consistent – Moderate – Extreme
We do require you approve the granite slab before we begin fabrication to ensure quality control and customer satisfaction.
FAQ About Granite Slabs & Counter Top
What is the average cost for granite countertops?
Approximately $35 to $100 per square foot
The cost of a granite countertop will, of course, depend on the size of your surface area. However, the average granite countertop will cost approximately $50 to $100 per square foot. In addition to the size, the cost will also depend on how thick you want the slab to be. Prefab granite slabs are always much more affordable because it is premade.
Which is more expensive granite or quartz?
Granite Is Cheaper Than Quartz
This is probably the first thing most people consider when choosing their countertop. The final cost of countertops will depend on several factors, but generally, granite countertops cost $40-50 per square foot including installation. Quartz ranges from $50-75 per square foot installed
Please contact us for a quote on your granite slabs and counter tops for your kitchen and bathrooms!