Modern Euro Kitchen Cabinets
Choice Granite & Kitchen Cabinets Inc. is a licensed kitchen cabinet contractor & retail showroom for modern kitchen cabinets in Los Angeles. We have over 100 different kitchen & bath cabinet styles to choose from. We are able to offer low prices on materials due to the fact that we do not have a high mark up & most importantly are cabinets are RTA/Semi custom. We do not offer custom cabinets. Our installation rates are also fantastic as we are the prime contractor, we do not sub contract our kitchen cabinet installation projects. Our factories are very well known such as Ultra Built & Interni Cucine.
How much will my new kitchen cabinets cost?
Getting a kitchen cabinet estimate & professional 3D design is as easy as 1-2-3!
Send us measurements & pictures via email, text or walk in - or we offer free in home measurements.
Tell us what door style & cabinet color you're interested in.
You will then receive an itemized quote & 3D design that is 98%-100% accurate!
Rest assured, we will go over the fine details & revisions of your custom design together at a later stage in your home – However, your price quote will not change!
Flat Panel RTA Modern Kitchen & Bath Cabinets
Modern Kitchen Cabinet Accessories
Download our modern kitchen cabinet catalog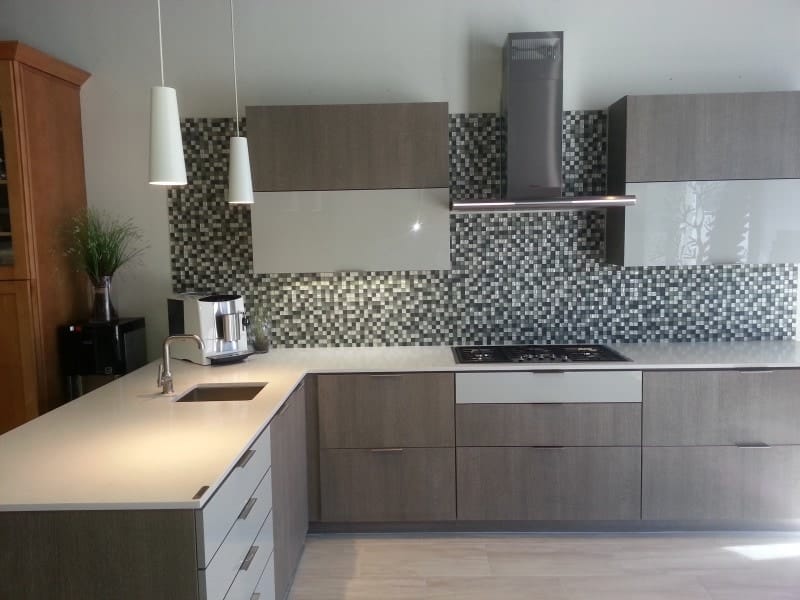 Designers appreciate our wide variety of styles, sizes and materials. Builders and contractors depend on our products' durability. And because we're "green compliant," Mother Earth loves us, too!
Cabinets
Our box construction is a European-style, frameless cabinet ¾" melamine material with a ¼" hardboard back, drilled to accept dowels and confirmate screws. The strength of the cabinet comes from its foundation, the box, built for increased durability and resulting in a longer-lasting product. Ultra Built cabinets also provide greater interior storage space and have a clean, aesthetic look.
Doors
We offer a variety of doors styles and colors which are low pressure laminate, high pressure laminates, thermo-foil, wood veneer, engineered natural wood veneer, and solid woods. Our products come with a 10 year warranty.
Machinery
Apart from assembly, our operations are entirely computerized. We utilize the number one-rated machinery in the U.S. – Biesse – enabling precision cutting accuracy at 1/10 of 1mm.
Features:
● Flat panel modern design
● High gloss, Matte, Texture & Wood Grain finish available
● Soft close doors & drawers
● German design
● Over 50 options to choose
Types of Euro Style Cabinetry
Solid woods are available in a wide selection of species. including alder, cherry, maple, oak, birch & walnut. Cabinets doors are available in Raised, Recessed & Flat panel, with a variety of designer stains.
Engineered Veneers is an exotic line utilizing environmentally friendly materials from managed forests throughout the world, these real wood veneers offer uniformity in both color & grain consistency. Dyed to selected colors, they produce a natural wood pattern without natural wood defects. All dyes used are water-based & contain no harmful heavy metals. Grains are available in maple, bamboo, zebrawood, cherry, walnut, wenge, white oak & other wood species.
High Pressure Laminates & Thermofoil
HiGH Pressure Laminates & Thermofoil are available in a wide range of solid colors, wood grain prints, patterns, textures, & finishes. Laminates can be overlaid both vertically & horizontally on MDF substrates. HPL products give the cabinet door surface resistance & exceptional durability. In addition, they are green compliant & meet NEMA standards
Trending questions regarding Modern Euro Kitchen Cabinets
What is European cabinetry?
European style cabinets are known in America as modern, flat door style, instead of a shaker or raised panel door style. These flat door fronts are usually glossy, matte or wood grained.
Is full overlay the same as frameless?
Frameless cabinets are usually, Full Overlay. The Full Overlay of a frameless cabinet completely covers the entire construction box – or "casework" , leaving only a few millimeters of a reveal that creates a sleek & seamless look. This is popular choice for modern / contemporary kitchen.
Which style of cabinets are more expensive?
Modern/frameless kitchen cabinets are usually more expensive then traditional cabinets such as shaker or raised panels doors because of the frameless construction and also the materials used
Please make an appointment with us if you would like to discuss the vast details of the guidelines and code requirement.