Picking the perfect kitchen backsplash for your kitchen can feel overwhelming due to all of the style options. Most homeowners fear choosing a style or tread that won't age well with their home. Choosing any kitchen material can be a pretty overwhelming process. When it comes to backsplashes, there are many options Subway tile or self-splash? Colored tile or white tile? Choice Granite has got you covered.
Our team has installed hundreds of kitchen backsplashes over the years, and we've seen styles and color combinations that run the gamut.
We have put together a list of commonly asked questions. We hope these tips about picking the perfect kitchen backsplash will get a little bit of the stress out of your decision!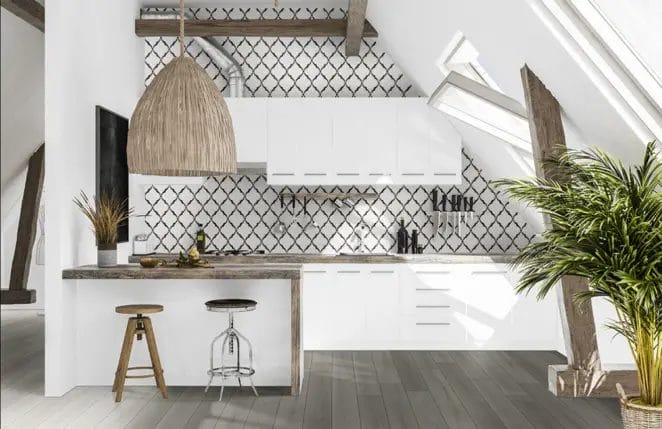 During your Remodel, when is the best time to choose your backsplash?
When choosing a kitchen backsplash, we usually choose it after determining the countertops and cabinet's. For example, If someone wants green cabinets, they know they want marble countertops, which makes it simple we understand that a busy backsplash is not the right choice. Yet if a customer has their heart set on white shaker cabinets and dark gray countertops, we know we have an opportunity to add a little something unique with the backsplash. There are hundreds of thousands of backsplashes options and no right or wrong decisions – it just comes down to personal preference. Our suggestion is simple: find a photo of a kitchen you like and make your kitchen look similar. It's that easy!
Should I consider the material when choosing a backsplash?
This is an important one; you want to choose a material that will support your cooking styles. This one may sound a little strange, but depending on your cooking style, you may find that you want to use options that will be easy to clean up. There are porous backsplash options or grout colors. Our team can help you with advice on choosing the correct options for your lifestyle.
What are your top 3 backsplash materials?
Handcrafted Tiles
Running Slab up the wall or self splash
Subway Tile
Choice Granite & Kitchen Cabinets Inc:
Let us show you why we are the best countertop company in Los Angeles.
Choice Granite & Kitchen Cabinets Inc. offers both high-end and affordable cabinets and guarantees you the lowest prices on the market. We can custom-make any cabinetry that you prefer, including wood, maple, oak, cherry, birch, pine, walnut, alder, or any combination of wood specie.
New Los Angeles Location, Specializing in Kitchen Backsplash Consultations and Installs.